Blog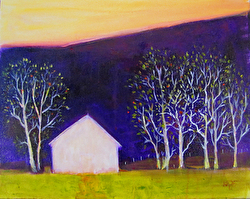 "Vernal Equinox" will be at Old Town Art and Framery
This is going to be a whirlwind weekend (no pun intended – with all the wind we've been having this winter, almost every day is whirlwind!). But besides the weather, I will plenty busy this weekend with art related fun. Friday night will find me at Old Town Art and Framery, my Fort Collins gallery, where I'll be on hand for First Friday Gallery Walk and the debut of five of my new paintings.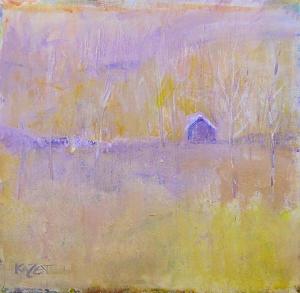 "Winter Silence" is one of my new paintings that will be on display at Old Town Art and Framery.
If you are in the area, and have never been on a Gallery Walk, this would be a good night to experience the fun of visiting the Old Town galleries – most have got special shows going on, many artists on hand and with appetizers and beverages – well, it's like a big party! Stop in at Old Town Art and Framery first and check out my new work and new work by Shelly Hearne, Daryl Price, Jim Benest and our newest gallery artist, Carol Nelson, then grab one of the handy gallery guides and check out the other galleries.
Saturday night I'll be up in Cheyenne, Wyoming at the opening reception for the Western Spirit Art Show at the Old West Museum. This year I had three paintings accepted into the show, plus I have a small painting in the Vandewark Miniature Show. The opening reception is always a grand time – this is a top notch show and they know how to treat their artists and patrons well. Part of the fun is participating in or watching the Quick Draw – usually around eight artists have 45 minutes to complete a painting, start to finish, while a crowd cheers them on. I did the Quick Draw a couple of years ago and it was quite the experience! Click here to see which of my paintings are in the show.
After this weekend, things should slow down a little (and hopefully the wind will, too!) I'll be headed out to San Diego at the end of March to visit family. When I return I'll be attending an Alzheimer's fundraiser breakfast, Reason to HOPE. As some of you may already know, my father was diagnosed with Alzheimer's a couple of years ago. While he is doing remarkably well, the disease has robbed him of his short-term memory and his ability to do the kinds of things that he always enjoyed – he can no longer take care of the yard, maintain the house, fix the car, travel…
My Dad is the fourth of his siblings to have Alzheimer's – his three sisters also had the disease, and although she was not diagnosed with it, in all probability my grandmother also suffered from Alzheimer's.
This year, I am dedicating my art work to help find a cure for Alzheimer's. I will donate 25% of all proceeds from the sale of my paintings and prints to the Alzheimer's Association.
---
---