Blog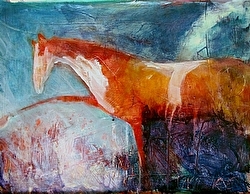 Once again, my muse showed up to be painted. I've done a number of paintings that feature my horse Scotty in various "incarnations." The first time I painted him was a very realistic portrait in pastel. Then came Healing Path, Winter Solstice, Change is Afoot, Return of the Warriors. And now, Til the Morning Comes. This is an experimental piece, done in acrylic on gessoed hardboard. I've used various techniques to create the texture in the painting - rags, palette knife, brushes - even my fingers.
The dictionary defines "muse" as:
Greek Mythology. Any of the nine daughters of Mnemosyne and Zeus, each of whom presided over a different art or science.
muse

A guiding spirit.
A source of inspiration.

muse A poet.
---
---