Blog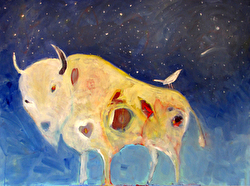 Today is the Winter Solstice, the perfect day to present "Waboose: Spirit Keeper of the North."
According to the Sun Bear Medicine Wheel, "Waboose's time starts with the Winter Solstice, when Father Sun is at the southernmost point of his journey, the shortest day of the year. Her times are midnight to dawn, Winter, the elder time of life and around to birth or rebirth.
The most honored White Buffalo is the animal manifestation of Waboose."
You can read more about Waboose here. http://www.wolfcreekarts.com/waboose.htm
This painting has an interesting history, as it started out about three years ago as an Elk painting, which was based upon a dream I had of walking through the woods at night and feeling a presence to my right. I came over a hill and saw a circle of tipis, all glowing from fires within. As I stopped to look at the tipis, a huge Bull Elk stepped out of the brush and regarded me, blocking my view of the tipis. Then he turned and vanished into the darkness. The tipis were gone.
The more I tried to paint this vision, the more it slipped away – and so I abandoned the canvas for well over a year. Then near the time of last year's Winter Solstice, at a time when I was painting over many of my failed works, I felt compelled to paint over the Elk. At the time, I had no preconceived idea of how I would rework the painting – I just trusted my intuition and let the paint fly. I worked quickly and almost ferverishly, as if there was something that needed to reveal itself before I got too literal. As usual, I was painting at night, and when I finished, I went to bed, exhausted.
In the morning, I peeked into my studio to see what had transpired the night before – I was a bit taken aback. Who was this white buffalo? I set the painting aside in my studio for a year, unwilling or unable to deal with the power of the white buffalo, unable to explain the meaning, unsure of the composition, insecure about the buffalo, with the strange patches of red showing through her white coat.
And then, two weeks ago, I decided to bring the buffalo upstairs to hang in my livingroom. And a funny thing happened – all the indecision I had about the piece vanished, and I began to love the mystery of the white buffalo, the white crow and the shooting star.
Last week I happened to go into Boutique Bravo, a cool little clothing store in Fort Collins, Colorado that also sells interesting books and found the book "Medicine Wheel." In reading this book, "Waboose" was mentioned. Not knowing what "Waboose" meant, I googled the term and suddenly I understood what my painting was all about.
As for the original Elk painting, I believe that vision was just a gateway for me to begin my journey to paint "Waboose: Spirit Keeper of the North".
---