Blog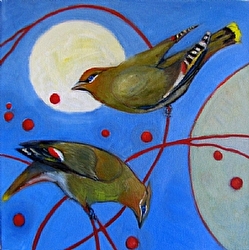 As the name implies, this painting is about balance. I challenged myself to combine some realism within an abstract design, and am pleased with the results. I am going to enter this one into a few shows and see what happens.

I find myself wavering between abstract design and realism - and as is my nature, try to strike a balance between the two. In this piece, I knew I wanted to paint waxwings - the top bird is a bohemian waxwing, the bottom one is a cedar. In researching the birds, I found that they often intermingle in flocks. The background design is purposefully left very graphic. When I first started the painting, I painted in the lines to get a feel for how the eye would travel around the painting... but I liked the stark contrast to the birds, so I left the lines visible, and even accentuated them. I also purposefully left the two circular elements rather ambiguous - is that bright orb the sun or the moon? Is the shape on the right a bush or a planet? Does it really matter?

Lately I have been challenging myself to not overwork pieces - to leave some areas unfinished. Not everything in life has to be sewn up tight - in reality, nothing really is set in stone. We exist in a constantly changing and evolving universe - and that is what I want my paintings to embrace. The ebb and flow of life.
---
---
---