Blog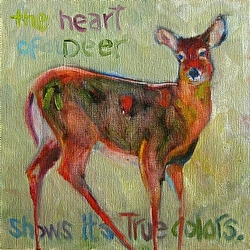 The Heart of Deer - session II
I'm not talking about the song recorded by the Surfaris back in 1962. I'm not even referring to "fall badly and painfully." Nope, I'm talking about the technique of using a rag to wipe out passages in a painting that aren't working, to get back down to the texture of the canvas. It's a technique I used last night during Session II of painting "The Heart of Deer."
The session started well. I knew from looking at the photo I took of Deer after Session I that I needed to go back in and soften her ears, redefine her face, redraw her back leg, warm up the background and "carve" out her neck and chest. I was also bothered by the dark patch on her back and sides; the shape seemed too regular, too sharp-edged. I also noticed some areas where the color had gotten a bit muddy.
At some point in my learning process working in oils, I switched from using Viva paper towels to wipe my brushes with to soft cotton painter's rags. My initial reason for doing that was to save money; it seemed like I went through an inordinate number of rolls of paper towels! But then, because of an "accident" where I had to wipe out a good portion of a painting, I discovered that the rags did a great job lifting the paint without leaving behind fibers like paper towel does. And, once I let the rags dry, I can wash them and reuse them, which appeals to both my penny-pinching side and my "green" side.
As I looked at Deer last night, I knew I would have to go backwards before going forward, and would have to wipe out some of the painting I'd done in Session I. This is always a scary thing to do – I want to leave what is working and wipe out what's not, but sometimes it is difficult to determine which is which. In this case I knew that dark patch was calling way too much attention to itself, and it had to be take down a notch or two. I also needed to wipe out some areas on the neck that had gotten muddy looking. And I needed to do something about the legs. In my reference photo, the deer is standing in deep snow, so her feet are hidden. But I didn't like the way they just faded out in the painting. As I was wiping, I decided to wipe out the legs, pulling them down off the bottom of the canvas, exaggerating their spindly nature and partially obscuring the words written on the bottom. As soon as I did that, I knew it was the right move. The painting felt more pulled together. I have to admit that sometimes I get attached to my reference photo and let it be more important than the actual painting. This was a case where I was able to subjugate the "reality" of the photo and paint the reality of the painting.
I finished this session feeling satisfied with the progress made. Deer is revealing herself slowly, cautiously – different than Wolf with her confidence and desire to impart knowledge. With Deer, the message is about containing nervous energy, holding the heart still long enough to let the mind assess the situation. And then taking appropriate action.
---
---
---
---
---
---
---
---