Blog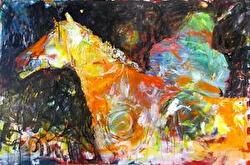 A month and a half after my father's death, I am still struggling. I thought I was prepared, but I wasn't - not for the emotional upheaval, the feelings of being adrift without an anchor, the sadness of my loss mingled with the happiness of knowing that he no longer suffers in a body and mind that were failing. I guess I didn't expect to feel such a profound sense of loss. The waves of grief wash over me, sometimes leaving me unable to breathe, sometimes leaving me cleansed and at peace. I hear his voice in my mind; I know he is ok. And I know I'll be ok. But it still hurts.
In August my daughter and my grandbabies moved into their own home an hour awy. They have lived with Dave and I for two years, since Kolby was 18 months old. Kora was born here. And even though having two little ones in the house curtailed my painting time - and certainly sapped my energy - the joy of being intimately involved in their everyday lives in many ways made up for it. Now we see them once a week at most, and I miss them terribly. There is a hole in my heart.
Painting helps put things in perspective for me. It gives me an outlet for emotions when words can't. That, more than anything, is why I paint. Matters of the heart are often obtuse, and the more I try to define them within the contest of spoken language, the farther I get from what I actually feel. Part of the problem is I don't always know what I'm feeling.
A few years ago I came upon an interview with Lance Green, a colorist and expressionistic painter. The interview brought me to tears, because it was the first time I had ever heard anyone describe their painting process that sounded even remotely like my process. Most painting classes and workshops teach the "correct" way to paint is through careful planning: preliminary sketches and studies and neatly laid out palettes. In other words, before putting brush to canvas, you should know where you were going to end up. I tried and tried to paint that way. To my eye, everything I painted ended up looking stiff, devoid of emotion.
And then I heard Lance, and decided if I ever got a chance, I would take a workshop with him. That chance came just a week after my Dad passed. Without grandchildren in the house to worry about, I was free to take a Saturday to drive to Littleton and take the class. I have to admit I was pretty nervous about the whole thing. I'm used to painting at night, in the sanctuary of my studio, with my Gypsy music and sleeping dogs. The prospect of painting in a room full of other artists was daunting. What if I couldn't paint at all, couldn't get into a groove?
Lance gave a great demo and reminded us that we might or might not come up with a "great" painting that day - but that wasn't the goal. Opening our minds to a new approach to painting was the goal. For me, it wasn't so much a new approach, as it was confirming the validity of my own process. Letting the canvas and the paint draw out the images residing in my subconscious mind. No, I didn't end up with a great painting, or even a good one. I was too distracted by the hub-bub of the workshop to focus and let my mind float freely and creatively. Although I tried not to be, I was embarrassed by what I ended up with at the end of the day.
That night in my studio I had a bit of a melt down. I completely destroyed the painting, covering it with a coat of gesso, knowing that was the only way to save it. A few days later I reworked an old canvas that had been in my studio for 2 or 3 years, thick with the history of a half dozen or so failed paintings. "The Healer" is the painting that finally emerged.
In this painting, it is unclear who the Healer is. Is it the horse or the human?
---
---
---
---
---
---
---
---
---
---
---
---
---
---
---
---
---
---
---