Blog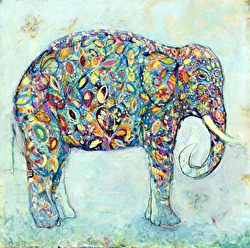 Last night I was flipping through my journal – the journal that I haven't opened in months – and came across an entry from the full moon in June. I had drawn a spiral, starting in the middle and moving outward with maybe 20 layers, which ended in a straight line pointing up, symbolically to the North.
At the time, I felt lost in the labyrinth of family problems and was struggling to find my bearings and keep moving forward. The trouble with a labyrinth is that while inside, you have no idea where you are in the process, and it seems like you are dealing with the same issues over and over again, albeit from slightly different perspectives. The journey is long, the end is not visible.
I've found that over the summer, I have learned to be more patient with my painting - "Love is Patient" took me over three months to complete, with layers and layers of color and patterns, re-drawing, adding and subtracting until she felt "done." In many ways the painting is a meditation on love, acceptance, patience, strength and wisdom.
In my Totem animal paintings, I start with a loose, intuitive, abstract painting, adding calligraphic marks, organic shapes and color until I am able to see the hint of an animal. I then block in the background negative space, and spend many hours "meditatively doodling" in the shape of the animal. In these paintings, the focus is on the power of the animal guide, and on the lessons we learn by holding the vision in our mind. The abstract patterns within allow the viewer to bring his or her own story to the painting. I've been told – and in fact notice it myself – that at different times I discover new "paintings within the painting".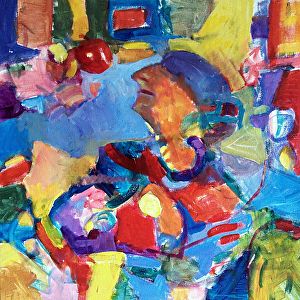 Paintings such as "Eve," (above) take the concept of intuitive painting and approach it from a different angle. The start is similar, but instead of creating an animal with a defined space, these more narrative paintings evolve in harmony with the background. These paintings tend to have human figures in them – sometimes the figures are prominent, such as in "Totem Woman" and sometimes they are hidden as in "If You Could Read My Mind".
Although these paintings are deeply personal in nature, my hope is that through the use of iconic figures, they will connect in a spiritual way with my fellow travelers.
---
---
---
---
---
---
---
---
---
---
---
---
---
---
---
---
---
---
---
---
---
---
---
---
---
---
---
---
---
---
---
---
---
---
---
---
---
---
---