Blog
« Organic Bison | Main | Little Bear »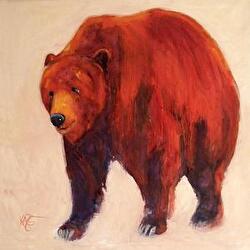 Organic Bear
(Sorry, couldn't resist the reference to the Jungle Book!) I finished this painting a few days ago (you can see the unfinished version in an earlier blog) and like the expression on the bear's face. There is something playful and benevolent about her, yet her size and claws let you know she is not to be messed with.

If you find yourself attracted to images of Bear, you may be able to learn something about yourself by studying the behavior of bears. According to the Animal Totems website, Bear teaches us to respect our natural hibernation cycles. Just as Bear rests during winter and reawakens during spring, we need spaces of rest and rejuvenation. Bear calls us to awaken the potential within ourselves and the power of our unconscious mind. Bear reminds us there is a time for playfulness and a time to be assertive.

I'm working on a small Bear painting (8x8) which may go into the miniature's show at the Western Spirit Art Show. I've not had time to do much painting lately - I've had company almost non-stop since Thanksgiving, and have had to deal with family health issues. Plus my daughter got married New Year's Eve and then moved with her new husband and her two children up to Oregon - lots of emotional stuff! Like Bear, I am looking forward to a bit of hibernation to recharge my batteries.

I'm taking my Mom down to the Ernest L Blumenschein show at the Denver Art Museum today. By all accounts, it is a great show and I'm psyched to go see it and be inspired!
Topics:
On the Easel
---
---
Comments