Blog
« Glory of Horses panel - step 4 | Main | Really finished! »
Well, it's finished at last! This has been quite a challenge to keep with the original composition, yet come up with a compelling design that will fit back into the "mother image." The Glory of Horses project has really taken off, and it is starting to really generate interest. Hopefully that interst will continue to grow and raise awareness about the fate of horses that have given their hearts to humans, only to face an uncertain future when they are no longer wanted or "useful."

I have named my piece "Out of Sight, Out of Mind" because as I looked at my original panel, the image of horses crowded into a dusty coral, awaiting their fate at auction, kept popping into my head. I've purposely kept the horses somewhat obscured, as a metaphor for how we only want to see the glamorous and heart-warming side of the horse industry, and for most of us it is too unsettling and upsetting to look at the dark side, and so we close our eyes and pretend it doesn't exist.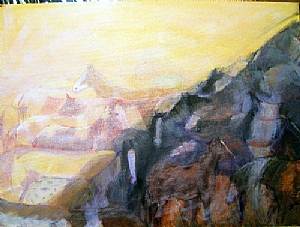 This is step 5 in the process, trying to adjust the values and colors so they are closer to the original panel.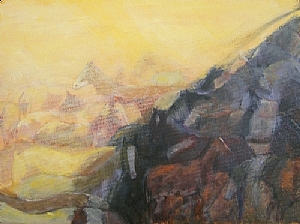 In step 6, I've created a more dusty feel.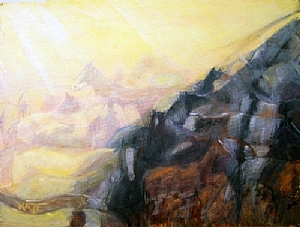 Here is the finished panel. I just need my final "okay" then I'll varnish and ship it off to join the other panels!
Topics:
Glory of Horses Mural Project
---
---
Comments